The online gambling industry is going from strength to strength and through the incorporation of innovative and dynamic technologies, it's growth is set to continue exponentially for the foreseeable future. At a time when many market segments are struggling, iGaming is weathering to storm and finding new ways to meet the needs of clients all over the world. This has led to an uptick in the number of individuals requesting information about an online gaming license.
Not only is online gambling extremely popular with all demographics, but it is an extremely profitable business model for those that choose to launch gambling platforms or apps. In an industry that is booming and showing no sign of slowing, there has never been a better time to turn your dream of opening an online gambling company, into a reality.
According to ResearchAndMarkets.com, the current estimates state that the gambling market as a whole is growing at an annual rate of almost 6% and is expected to be worth over $565.4 billion by 2022.

Business Wire article: "Gambling: Global Market Opportunities & Strategies to 2022"
This is an indicator that the time is right for starting or investing in the online gaming business. Any business operating any form of online gambling is required to obtain the necessary license or authorization to do so. It's advisable that every company wishing to operate a gambling or gaming-related business, should apply for and acquire an offshore gambling license.

Possession of an online gaming license allows the license holder to conduct the following business activities.
In addition to this, licenses can also allow the provision of ancillary iGaming services to other online gambling companies. It is best to discuss your plan and idea at length with a corporate service provider such as Fast Offshore, to make sure you apply for the correct licensing for your situation.
Applying for an online gambling license is a complex and lengthy process, due to the fact it is a regulated industry. But don't let this put you off. Not all licenses are created equally and there are options to suit every deadline, budget, and requirement. By taking professional advice and going through the process with your business service provider, you can ensure you make the right choice and take all the steps efficiently and smoothly.
Remember, all online gaming platforms must be registered and compliant with at least one jurisdiction. Not doing so is a huge risk for you, your company, your reputation, and the reputation of the industry as a whole.
In an industry that is booming and showing no sign of slowing, there has never been a better time to turn your dream of opening an online gambling company, into a reality.
---
Why do I need an Online Gaming License?
If you are considering setting up an online gambling business of any kind, you need to get yourself an offshore gambling license. If you are offering online gambling of any kind, you need to be both registered, and compliant with at least one jurisdiction or country.
These are the main reasons why you must acquire an online gambling license.
Operate in a long list of international jurisdictions legally
Provide your product to citizens across the world in a legal manner
Enjoy fiscal benefits such as zero tax or low tax rates in some of the offshore licensing jurisdictions
Negotiate solid relationships and terms with payment providers and merchants including all the big names
Open a settlement account in a range of jurisdictions
Benefit from lucrative advertising deals, as well as advertise yourself elsewhere, or sponsor
You'll be able to work with the best hardware providers
Get access to the best games and other forms of software for your platform
List your gaming app on the Play and iStore
Enjoy the credibility and authenticity that licensing brings. Your clients and potential customers will be reassured and more likely to pick you.
You won't be at risk of being shut down, arrested, prosecuted, convicted, or fined for illegally operating an online gambling site.
The online gambling world is highly regulated to protect both clients and operators from money laundering, fraud, and other forms of criminality. While no one likes the thought of being so heavily regulated that it stifles innovation and development, a level of oversight is necessary. Thankfully, many jurisdictions that strike a healthy balance between protecting stakeholders and allowing the growth and evolution of the iGaming industry.
Remember, all online gaming platforms must be registered and compliant with at least one jurisdiction. Not doing so is a huge risk for you, your company, your reputation, and the reputation of the industry as a whole.
Failure to having an online gaming license so is both illegal and unethical.
Will result in difficulties in opening settlement accounts and onboarding payment providers
It will make it much harder to negotiate or even getting advertisers
Operating without a license leaves you open to being shut down and being blacklisted from acquiring an online gambling license in the future
Failure to adhere to a particular jurisdiction licensing requirements can have dire consequences including ruined reputation, hefty fines, and even criminal proceedings.
---
Preferred Offshore Legislations for your Online Gaming License
Every business is as unique as the individual behind it and as such, our team understands that each one has its own needs and visions. With over 25 years of experience in the iGaming sector, we know the ins and outs of every jurisdiction and can therefore provide indispensable advice on which license will suit which client.
Our staff have the necessary skills to manage the application process, provide advice and assistance, and guide you through the entire set up process. In addition to this, we can offer ongoing maintenance for your company as it grows and expands.

First, you need to give careful consideration to what you want to achieve as this will have an impact on where your company should be based. Matters such as accounting, reporting, privacy, tax, payment providers, settlement accounts, and whom you can market your gaming company to, should also be evaluated. Our extensive hands-on experience in online gaming and corporate services means we can help our clients work legally, successfully, and in a tax-efficient matter, while ensuring their compliance. We can help our clientele obtain online gambling licenses in the following jurisdictions:
---
Curacao Gaming License
---
Anjouan Gaming License
---

Kahnawake Gaming License
---
Malta Gaming License
---
Isle of Man Gaming License
---
Costa Rica Gaming License
---
We understand that selecting a jurisdiction to base your online casino, bingo or poker or sports betting business is a challenging task. If you are not sure about which jurisdiction is most suited to your needs and budget we'll be happy to help you make the right selection. Click on the Contact Us button below or select "Schedule a Consultation with us" so we can listen to your business idea, understand your objectives and create a plan to get your project started.
---
Things to Consider When Choosing an Offshore Jurisdiction
If you plan to go ahead with incorporating a gaming company in an offshore jurisdiction, you need to make sure you pick the right one. There are several to choose from and on the surface, all have pros and cons. But as each business and vision is different, which will be the best fit for you may not be immediately obvious.
To help you evaluate which is the best option for you, these are some key points to consider. By addressing each one in collaboration with your corporate services provider, you can pick the perfect place for your online gaming company and online gambling license.
While doing your research is highly recommended, this is not a decision that should be taken lightly or on your own. Your best bet is to contact Fast Offshore to benefit from our 23 years of experience in the world's offshore gaming licensing jurisdictions. Let us walk and talk you through all of the options, evaluate which ones best suit your needs, and then get the ball rolling once the decision has been made.
---
Gambling Black Markets
There are several jurisdictions where gambling both online and offline is completely banned. As a general rule of thumb, your online betting license will not allow you to offer services to countries that are blacklisted by the FATF which as of 3 August 2020 are North Korea and Iran.
"Black markets are defined as jurisdictions where government authorities have taken affirmative, concrete actions to actively enforce that prohibit online gambling, or have issued unequivocal official pronouncements that online gambling is not legal in the jurisdiction."

New Jersey Division of Gaming Enforcement
Other countries prohibit gambling for cultural and/or religious reasons. These include inter alia, United Arab Emirates, Kuwait, Jordan, Albania, Lebanon, Brunei, Somalia, Sudan, Egypt, Indonesia, and Qatar. Additionally, some countries also have local license requirements that may restrict access to their local market.
---
What markets does my Gambling License prohibit?
Depending on where your online gambling company is licensed, there may be certain markets where you cannot operate. These are specified by the licensing authority of the respective jurisdiction and may be subject to change. Fast Offshore advises all clients that they respect these limitations and do not offer their product to citizens in those countries.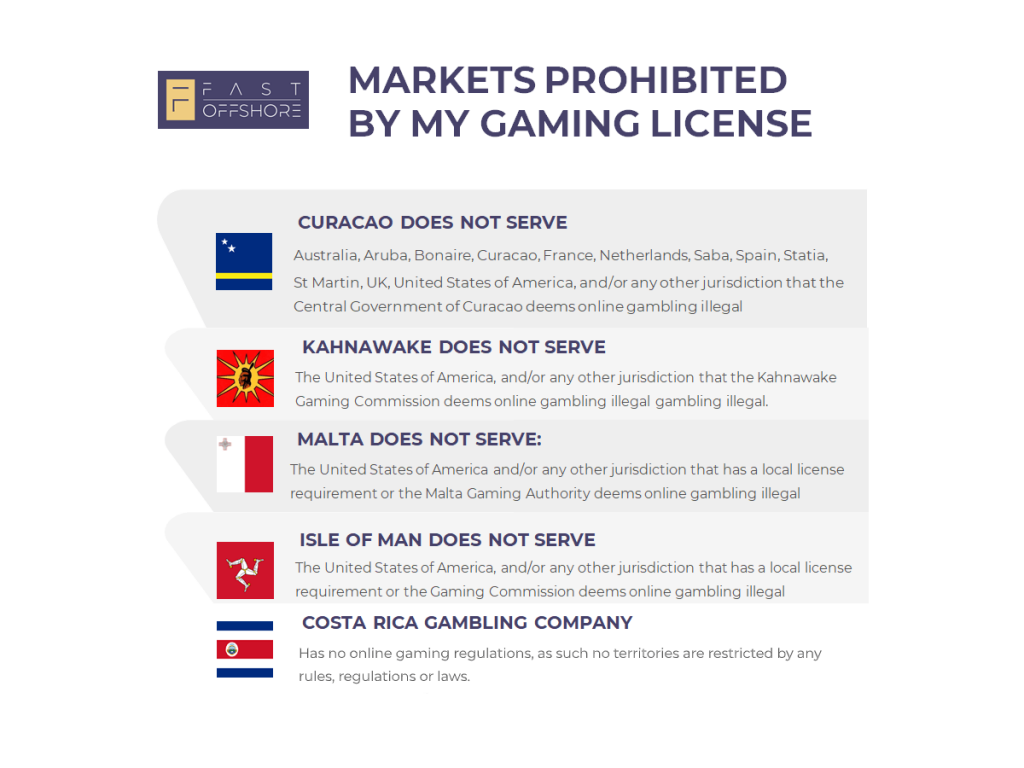 If you have any questions or concerns about where a particular license will allow you to operate, you should discuss with your corporate service provider such as Fast Offshore.
---
Can I get a Gambling License for the USA?
Fast Offshore does not provide any advice or assistance to any individual, company or entity whos target market is the United States. There are no exceptions to this, even if the target demographic is in a US state which allows online gambling.
The US online gambling market is very complex and each state that has legalized iGaming have their own rules and regulations. There is no such thing as a single license for the entire United States of America.

Fast Offshore statement
Entrepreneurs that are US citizens and want to start an online gambling business that DOES NOT cater to the domestic market are welcome to contact Fast Offshore. This is only acceptable if their target market is outside of the USA and they are prepared to satisfy the basic Know Your Customer requirements, due diligence, processes, and provide a clean criminal record. They will also be asked to prove the source of funds is legitimate and that they are fit, proper, and capable of running the business.
---
Gambling License Cost
There is no such thing as a 'cheap' gambling license. Because of the nature of the industry, there is a cost attached to each license which is payable upon application and renewable periodically. This online gambling license cost is partly to cover the administration, supervision, and monitoring, but it also means that only those with the financial means to run a site properly, can apply.
There are big differences in the cost of the license between certain jurisdictions. Curacao and Kahnawake, for example, are on the more cost-efficient end of the scale when compared to Malta or other EU jurisdictions. Fast Offshore helps clients decide which is the best option by taking into account their budget and other business requirements.
It's important to remember that there are other costs associated with online gaming licenses. These include renewals, company incorporation, corporate structuring, accounting and reporting, as well as other business-related expenses. It is important to conduct a thorough review of all costs including licensing fees, corporate service provider fees, taxes and business costs, prior to making a decision.
We advise potential clients to always request a full break down of every service and its associated cost. Their potential service provider should indicate in their quote which costs are mandatory to be fully operational and which costs are optional. This will help you avoid hidden fees and unpleasant surprises further down the line. Remember the adage "If it seems too good to be true… it probably is".

Fast Offshore
In the jurisdictions section above, Fast Offshore provides further reading on some of the main offshore jurisdictions for an online gambling license, as well as Turnkey Package solutions that consider all the costs into consideration so you can check and compare each of the leading jurisdiction and evaluate their costs.
At Fast Offshore, we offer full transparency on all of our pricing. We provide our clients with detailed information on mandatory costs and optional costs, giving them the choice to either create a custom package or go for a turnkey package. To get further information on our pricing, custom packages, or turnkey packages, contact us and we will be happy to provide a range of quotes to suit your business needs.
---
Our Services for Gaming Businesses
Fast Offshore doesn't just assist with the acquisition of an online gambling license. We have worked hard to develop a comprehensive portfolio of services that we know meet the needs and requirements of our clients. Having been in the online gambling business for over 23 years, we are familiar with every requirement that can pop up, so we have made sure we can provide it. With our experience in all the key offshore jurisdictions, our relationships with regulators and authorities, and our vast network of international partners, we can provide services that will cater to your every need.
Business structure and planning
---
Compliance and Licensing
---
Settlement and Payment Accounts
---
Ongoing Services
---
Picking your Corporate Service Provider
One of the biggest decisions you will make as a part of setting up your online gaming company is picking the right corporate services provider. Partnering with the right firm is a difficult task as there are so many different companies out there, all vying for your business. But remember, picking the wrong one will cost you time and money.

To help you know what to look for in the right corporate service provider, we've provided a section to explain why you need one, how to choose one, and how to switch if your current provider isn't a perfect fit.
---
Projections and Trends of the Online Gaming Industry
Without a doubt, the online gaming industry continues growing exponentially. But, is it worth investing in it on the short and long term?.
The global online gambling market size is expected to reach USD 127.3 billion by 2027, registering a CAGR of 11.5% from 2020 to 2027. The market is expected to gain traction over the forecast period. The growing popularity of betting across the globe and the freemium model in online gambling are among the potential opportunities likely to unfold in the next few years.

Business Wire article: Online Gambling Market Size, Share & Trends Analysis Report by Type (Sports Betting, Casinos, Poker, Bingo)
In this section we analyze the projections of the Online Gambling Market Size, Share & Trends report, evaluate the best payment solutions for the gambling industry for 2021, the best regions and markets to get into in 2021 and go over the emerging technologies and trends. Make sure you check these projections and trends before you launch your online gaming business.
---
Comparison of our Top Licensing Jurisdictions
Based on our experience assisting clients with their application for an online gambling license, we believe that Curacao, Kahnawake and Malta are the best choices. But, of course, these licenses vary in terms of cost, time, requirements, and complexity.
To find out more about each and to compare the differences between them, we have prepared an easy-to-navigate article that will give you all the information, all in one place.
---
Crypto gambling
In this section, you can explore the cryptocurrency gambling industry in detail. We have prepared information for you on topics including:
Important cryptocurrency stats
Benefits for users and operators
The future of the market
Best crypto gambling jurisdictions.
---
How to Start Your Gaming Company Complete Guide
If getting an online gaming license and opening a gambling company is what you want to do, Fast Offshore has provided an in-depth guide on how to start your online gaming company :
Of course, there is no substitute for engaging a corporate service provider, this page is just to give you an idea of what lies ahead and how to start planning. 
---
Contact Fast Offshore to Get Your Online Gaming License
Fast Offshore has been working for over two decades at the heart of the online gambling industry. We have helped our clients make the right choices, realise their visions, overcome obstacles, and above all, succeed. We pride ourselves on transparency and efficiency and pledge to always and only act in your best interest.
Our hands-on experience not only in applying for an offshore gambling license but in all the key jurisdictions sets us apart from the competition. From all your corporate services needs to helping you obtain an online betting license, setting up a gaming company, tax-structures, and compliance– we have you covered!
Visit our Contact Us page and select "Schedule a consultation with us" for a 30-minute courtesy consultation. Let us help you take your business to the next level.
Related Articles
Follow us on social media!